Kitty v. Samuel McPherson. Minute Book Entry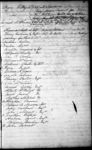 Jury Sworn Verdict for that the Petitioner will be entitled to her Freedom by the will of Mary Brook on the 14th June 1840 was the property of Mary Brook at the time of ?[?] & that she will be entitled to her freedom by the will of said Mary Brooke on the 14th of June 1840.
Sworn for Petitioner
for Deft.
Alexander Scott ch: Petr
Thomas Hoskinson by Deft
1 Greenbury Gaither
2 Nicholas Callan
3 Overton Carr
Singleton Townsend by Petr
William Wheatly Do.
4 John B Boone
5 William McCauly
William ONeale by Petr
6 Henry Pyfer
7 Edward N. Roach
8 Geo. M. Tubman
Chancy Berton = Deft
9 John McCutchin
Samuel Cropley = Deft
Albert P Waugh Do
Jacob Janny Do
Mathew Mitchell Do
10 Abraham Broome
William R Maddox = Petr
John Eschbach = Deft
John Mount = Deft
11 Jonathan Phillips
Ambrose Lynch = Deft
William Dowling = Deft
12 John Farrar