Charles Mahoney v. John Ashton. Docket Sheet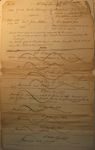 Appearances. Jury Sworn
Verdict for Petitioner & Judgment that Petitioner is free &c
vide [illegible]
five Exceptions filed
Costs
Appeal prayed and granted to the High Court of Appeals.
Appeal Bond filed and security approved by the Court
See the Minutes of October Term 1797 for the manner of entering the challenges
The Honble Gabriel Duvall Esquire withdrew from the Bench at and during this Trial of this cause
Jurors
William John
G D. 11th October Term 1791
Petition protection Summons return appearance by WC. Imparlance
8th May Term 1792.
Appearances and Imparlance
9th October Term 1792
Appearance and Imparlance
14th May Term 1793
Appearances and Imparlance
8th October Term 1793.
Apperances. Commission ordered to London for Pltt. Commissioners Joshua Johnson, William Murdock, Horatio Clagett and James Brooks
Continued
13th May Term 1794
Appearances and continued
14th October Term 1794
Appearances and continued
12th May Term 1795.
Appearances and continued
13th October Term 1795.
Appearances and continued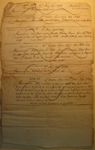 GD JKW 10th May Term 1796.
Appearances Interrogatories & Depositions filed and continued
Depositions No 1 to 8 included
11th October Term 1796 WC PBK
Appearances. Ann Cooke's depositn filed, 2 Deposns of Ann Cooke filed
continued
JR?W. JJ. 9th May Term 1797.
Depositions No. 10 11 & 12.
Appearances two Depons of Ann Hurdle & Henry Davis filed by Deft. Nichs L Darnall depn filed by Deft. Nathl Talbot's depn filed by Deft. Continued
10th October Term 1797 WC PBK LM
Deposns No 13 to 24.
Appearances. Depos filed for Deft. James Mullican's Depn filed for Ptff. John Clagetts Depn for Deft filed. admission of Defendt filed Verdict & Special Verdict vide [illegible]
Contd under curia adv [illegible]
8th May Term 1798
Appearances. Continued by the Court
JRW. JJ. 9th October Term 1798 WC PBK LM. JTM.
Appearances The court are of Opinion that the fact, that Joyce was in england is not sufficiently and expressly found in the Special Verdict; and for as much as there was sufficient Evidence disclosed at the Trial by which the Jury might have found the fact expressly. The Court on motion of the Petitioner by his Counsell order a venire de novo
Venire do novo prayed and granted.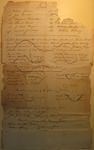 Jurors.
1 William Johnson
2. John Howard
3. Benjamin Richardson
4. Daniel Hauer
5. Jonathan Hager
6. Samuel J Coolidge
7

[torn page]

8.

[torn page]

9.

[torn page]

10. Nicholas Tice
11. William Hamilton Smith
12. William Hilleary
The first Jurors impannelled were Samuel Chew, John Howard, Theodore Hodgkin Daniel McComas, Benjamin Murrow, William Johnson, Elisha Wheatley, Benjamin Richardson, Joshua Green, Daniel Hauer, Jonathan Hager, Nathan Brawner of which the following challenges were made
Challenged by the Petitioner
Samuel Chew
Theodore Hodgkin
Elisha Wheatley
Nathan Brawner
Challenged by the Defendant
Daniel McComas
Benjamin Murrow
Joshua Green
Pannell made up of the following Jurors
Who were Jurors
Abraham Hoff
James Kendall
Nicholas Tice
Challenged by Defendant
Martin Kreps
Samuel Elliott
Pannell made up of the following Jurors
John Perry challenged by petitioner
John Jacob Bugh challenged by Defendt
Pannell made up of the following Jurors
Who were Sworn
William Hamilton Smith
William Hilleary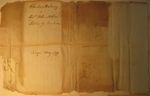 Charles Mahoney
vs
Revd John Ashton
Petition for Freedom
Judgmt May 1799