Select Committee on Illegal Traffic in Slaves in D.C. Deposition of Francis S. Key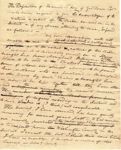 The Deposition of Francis S. Key of Geo Town Cola who being required to state his knowledge of the nature & extent of the slave-trade carried on in this District & of any abuses attending the same, deposed as follows—
My own observation will not enable to me to do much more than conjecture speak positively[?] or particularly as to the extent & nature of this trade. I believe it is principally carried on in Slaves brought here from Maryland Delaware & perhaps other places to be sold to the Traders, who are almost from Georgia Carolina & other States some of whom are almost always to be found here, & slaves who are purchased in Maryland & other places by such Traders & brought here in order to be kept together till they have obtained a sufficient the number they mean to purchase. The number sold to such Traders from persons residing in purchased by of negroes residing in the District sold to such Traders is (I think) not considerable.
This business, I have observed, has been greatly increasing for several years past. What number are annually purchased & transported in the ways I in the various ways I have mentioned & transported from the Washington County in this District I cannot tell, but I should think some hundreds. I have no knowledge of the extent or nature of this business in Alexandria County.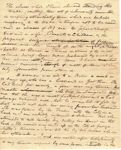 The abuses which I have observed attending this trade (omitting those acts of inhumanity committed in confining & transporting them which are perhaps necessary to the trade & therefore not to be considered as abuses of it) are the separations of Husband & Wife, Parents & Children, & the frequent seizure & transportation of free persons who are hurried off in the night brought to the City, & transported as slaves. Several instances of the most extreme distress have been produced by each of these abuses; with of some of them I have [strikethrough] had personal knowledge, though of most of them I have only information from others.
A woman was sold to a Trader a week or 10 days ago, who has a husband in Geo Town. She had lived for nearly a year near my house. Her master whose name who lives in Maryland told me that she was a most faithful servant & had always behaved well, that he wanted to sell her but would not sell her away from her husband. She was taken by the Trader into the City in a hack & and I am credibly informed & believe that she attempted to kill herself by cutting her throat in the hack. The wound was sewed up in the City at George Miller's tavern. I was told this by two persons who saw her afterwards. I was also called upon professionally & my opinion required by some person interested in the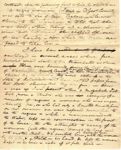 contract, upon the following facts which he stated to me.
A negro woman (I think in P. Geos County) was sold to one of these Traders. She was shewn to the Purchaser & told that she was sold, when taking up a cleaver, or some such instrument she chopped off one of her hands; upon which the Trader refused to take her.
I have been called upon to issue process employed in several cases where free persons were about to be transported as slaves. & also Three were discovered during the last term of Washington County Court to be among a drove of negroes then in the City & their transportation stopped by the Court. They were stolen f in the State of Delaware & I have received papers from that State shewing that they are free. About a year ago I was present when a Magistrate Dott[?] took from a Trader who was [strikethrough] carrying off a number of negroes a woman who was unquestionably free, or who had only a limitted time to serve. On that occasion we were refused permission to see the negroes & while a man, concerned[?] with the trader, kept us in conversation in the front of the house, the other attempted to carry off the woman (with other negroes) through the back yard into another street. We overtook him leading his horse with the woman by his side, & a Pistol in his hand. He left the woman leaped on his horse & rode off at full speed.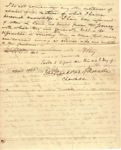 I do not remember any other instances of abuses of this nature of which I have personal knowledge. I have been informed of others & have no doubt from the secrecy with which they are generally kept, & the difficulties in arresting them in time, that many are carried away as slaves who are entitled to their freedom.
FSKey.
Geo Town
22 April 1816.
Sworn to before me this 22d day of April 1816
John Randolph of Roanoke
Chairman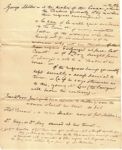 George Miller - is the keeper of the house in the City where the Traders generally stay & where their negroes are confined. He can if he will give evidence to the Commee of many important facts. of the woman who threw herself out of his window. of the woman who cut her throat. of the three negroes discharged as free last Court. of a free boy brought from St Mary's & sold to a Trader at his house. of the negroes being generally kept secretly. access denied to them. (& if he says otherwise as to this, young Mr Lear (the lawyer) will prove the contrary).
Joseph Poor Junr (who lives opposite to Miller's) saw the woman who cut her throat so did
Thos Torrant - a negro Dealer now at Geo Miller's.
Dr King or Dr May sewed up her throat.
Mr Wm Robertson of Geor Town can give evidence, if it is thought desirable of a boy (a slave of his) being stolen in the City & carried on board of a vessel & transported with a number of other negroes into Virginia, where the Boy was stopped by a friend of Mr Robertsons.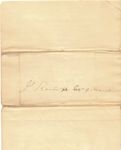 J. Randolph Esqr of Roanoke