Georgiana et al. v. Edward Swann. Statement of Facts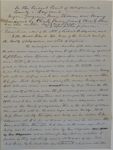 The undersigned under direction of the order made in the above named cause, would beg leave to report, that having examined the petitioners claim to freedom, it appears from record and other evidence, that by the last will & testament of Richard Brown admitted to probate in Charles County Maryland in 1789, where the testator resided he gave to his daughter Elizabeth Brown, a negro woman named Molly who with her offspring were to serve until 31 years of age and then to be free. That Molly had a daughter named Milly, and that both said slaves were [strikethrough] held by Miss Brown in the said County of Charles under the provisions of said will. That she first removed to Georgetown and subsequently about the year 1813, went to live with her sister Mrs Frances Alexander who resided in the County of Alexandria, then in the District of Columbia, and took with her the said negro woman Milly. That Miss Brown shortly thereafter sold Milly and her children to Mrs Alexander, she to be free at 31 years of age, and her children then born, and those thereafter to be born, at the same age. That Milly and her children were held by Mrs Alexander [strikethrough] by Mrs Alexander not as slaves for life, but as entitled to freedom as they respectively arrived at 31 years of age. That Miss Brown by her last will and testament which was admitted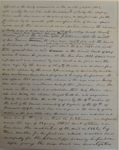 to probate in the County of Alexandria in the month of Sept: 1825, after writing the sale to her sister Mrs Alexander of Milly & her offspring to serve until they arrived at 31 years of age, makes provision for the purchase by her executor of the unexpired term of service of said negroes and for their immediate emancipation. Among the children of Milly was a woman named Chrysty, calling herself Chrysty Dunbar and now called Chrysty Brown who is the mother of the petitioners. After the death of Mrs Frances Swann Alexander, the said negro Chrysty fell into the hands of Richard B. Alexander as her admr with the will annexed and about the year 1842, she instituted against him a suit [strikethrough] in the Circuit Court of Alexandria to recover her freedom. At the June term 1851 of said court a judgment was rendered by said court in her favor and the said negro by the name of Chrysty Dunbar was declared free as will appear by the record & proceedings in said suit, and she has continued since said judgment to enjoy her freedom. It also appears that several other children of the negro woman Milly have successfully maintained suits for their freedom. From the records in these suits it is established, that Miss Brown when she had Milly & her children brought with her into Alexandria County did not take the oath required by the 4th section of the Act of the General Assembly of Virginia of the 17th of December 1792, which law was in force in the County of Alexandria in the year 1813, when the said negroes were imported into said County. It appears that the petitioners are infants under the age of 18 years & that most of them were born since the institution of the suit in 1842, by their mother for her freedom which resulted successfully for the plaintiff, securing her freedom.
After giving the case such an investigation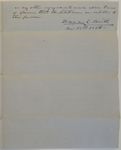 as my other engagements would allow I am of opinion that the petitioners are entitled to their freedom.
Francis L. Smith
Novr 18th 1856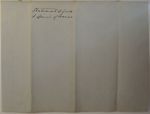 Statement of facts & opinion of Counsel