Nelly Jackson v. Thomas Tebbs. Will of William Carr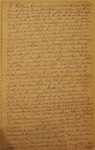 I William Carr being in perfect health thanks be to God do make this my last will and testament as follows. I give my dear wife during her Natural life, as follows the house & plantation I now live on with all the land on this side of the Church Branch running into the run below the Quarry Hill with all my stock of Horses Cattle & Hogs & all my household furniture and the Slaves now working on my land I say I give her the use of the foresaid land Negroes Stock and household furniture during her Natural life and then to go as hereafter mentioned with one hundred pounds in Specie to be paid her annually by my Executors hereafter to be named and if not pointedly paid I desire she may distrain all or any of my Tenants to that amount so that one hundred Pounds Pyear may be secured to her for life. I Give and bequeath to my dear daughter during her Natural life as follows the Lands where William Bennett livd bought of Daniel Payne the Lands bought of Edwards & Rigby adjoining the Land purchased of John Seale the Land purchased of Mrs Mary Tebbs & Deskin Tebbs and William Tebbs, the Lands purchased of William King Ashby & the Bridwells with Negro Hannah & her Children I say I give the above recited Lands & Negroes to my said Daughter Betsy Tebbs During her Natural life & then to her Child or Children if any living at her death to be equally divided if none living then to my Sons William & John Carr for life then to be equally divided between them or their Children and the square of Lotts in Dumfries where the Brick house stands I Give to my said Daughter & her heirs. I Give and bequeath to my Son William Carr during his Natural life the lands purchased of Nathaniel Triplett the lands Purchased of Mr. Lutrel the Lands purchased of Thomas Attwell the square of Lotts where my old store stands & where Mr. Alexander keeps store the lands purchased of William Fitzhugh Esqr. and the lands recovered in the District Court of Dumfries of Thompson Masons Executors at Chopowamsic where James Triplett lived and part of my land adjoining the Town of Dumfries from the Church branch below the Quarry Hill to the Beverdam Branch including all the land purchased by my Father from Thomas Calvert Harriss Except the Meadow below the House where I now live my land in Fairfax County purchased of Kirkland now rented to James Foley and at the death of my loving Wife Negro (Aga)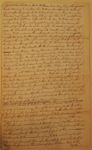 Aga & all her Children Jack & William Carr I say I Give the aforesaid Lands & Negroes to my Dear Son William Carr during his Natural life and after his Decease to his Child or Children if none to my Son John Carr & my Daughter Betsy Tebbs for life & then to be equally divided amongst their Children I Give also to my Son William Carr all my law books. I Give and bequeath to my Son John Carr during his Natural life the Lands I now live on after the death of my Dear wife from the Church branch falling into Quantico run below the Quarry Hill including the meadow devised to me from my father and all the lands Purchased of Cols. Ewell whereon my Grist mill Stands with my lott in Dumfries purchased of Alexander Doyle the Land purchased of John Berryman the Land purchased of Alexander Scott Mount Horeb with all the Lands adjoining Purchased of James James Varper Knox & Combs and the land purchased of William Bales with negro Lucy and all her Children, Jim Harry & Viney I say I give the said recited Lands & negroes to my dear Son John Carr during his Natural life & then to his Child or Children if any living at his death if none to my Daugther Betsy Tebbs & my Son William Carr during life & then to their Children to be equally divided my will & desire is that the Negroes bequeathed to my dear Children should remain with my dear Wife during her life unless she should Marry in that Case my will and desire is that my Slaves should go immediately to those to whom they are Devised That None of them be sold out of the Family to whom they are Devised if offered for Sale by any of them out of the Family of my wife my Daughter & my Sons that they be immediately Liberated And I do hereby desire they may be free to all intents & purposes I give and bequeath to Simon Luttrell and Thomas Chapman in trust for Daniel and Archibald Nell who have Assisted me in acquiring the property I now possess I say I give to the forenamed Simon Luttrell & Thomas Chapman in trust for the sd Daniel and Archibald Nell One thousand pounds Sterling worth of Goods if so much in my Store at the time of my death that they may Carry on the business of Merchandize in the Store house purchased of Alexr. Doyle devised to my son John Carr during the Minority of my Son John rent free & that out of my Estate my Son John be allowed a Moderate rent that the money due them be immediately paid by my Executors. that they have the full use of the said One thousand pounds Sterling worth of Goods to their own use Emolument all the remainder of my Estate not already devised both real and personal I Give and bequeath to Robert Luttrell & Thomas Chapman in Trust for my Dear Children Bety Tebbs (William)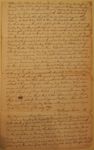 William Carr & John Carr to be equally divided that is to say the Profits of the said Estate shall in the first place be applied to the board and Education of my two Sons & for the support of the young Negroes devised to my Wife during life & if any residue remaining of the Interest of Bonds rents of Lands &c. Undevised then that to be divided between my said three Children to Wit Betsy Tebbs to Have Her part for her use & the two thirds due my Sons to be applied for the use of my two Sons as my trustees & my Executors may think proper my meaning and intention is that the Principal Debt due on Good Bonds & lands not devised be kept untouched nothing but the rents & interest used untill my two Sons Come of Age then the lands & bonds to be divided Equally that each child may known their part But the principal retained by my said Trustees or laid out in lands & Negroes by them & my Executors to the use of my said Children for life & to go as the other Estates devise them. I appoint my dear friend Simon Luttrell Guardian to my two Sons William & John Carr & desire that he & Thomas Chapman Collect my Debts That my Trustee Thomas Chapman if he Chuses to Continue in the Store with Daniel & Arch have five hundred pounds Sterling worth of Goods if so much in the Store to be Accounted for in Current Money when my two Sons Arrive at proper age that is one half to William Carr when he arrives to the age of Twenty one years and the other half to John Carr when he arrives at the same age I do request my worthy friends Alexr. Henderson James Reid & John Gibson will Act as Executors with Simon Luttrell & Thomas Chapman Till my Sons William & John Carr arrives at full age at which time my will and desire is that either or both of them at full age Release my forenamed friends Messrs Alexander Henderson James Reid & John Gibson from their Trust & that Simon Luttrell Thomas Chapman William & John Carr be then my whole & Sole Executors Written with my own hand & Signed & Sealed this 23 day of January 1790.
William Carr x
My Negro man Abner I desire may be Set free.
That my two Sons be Supported Educated out of the profits of my Debts & Rents of Land not devised that my Bonds be all renewed with Good Security these refusing to be sued and the Money when recd to be Secured as my Executors may think proper in Lands or other Bonds in the Donation to Thomas Chapman I have devised if he Chuses to Engage in Buisiness with Daniel & Arch that he is to have five hundred pounds sterling worth of Goods at my death & he pay Current for that Sterling when my two Sons Come of Age that my Daughter Betsy Tebbs & her Children be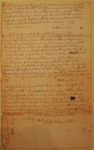 be also Supported out of the profits of my Estate undevised as my Will and desire is that all my dear Children should have an equal share of my Estate the small Pittance from Thomas Chapman to my younger Children should not be thought of indeed my Son John Carr should be intirely Supported out of the Profits of my Estate Undevised without Medling with the profits of the Estate devised to him. January 23. 1790.
William Carr x
Signed & Sealed as before
William Carr will Continued dated January 23. 1790.
If there should not be Goods Sufficient to Satisfy the donation to Daniel & Arch & the five hundred Pounsd Stg. to Thomas Chapman in my Store at my death I desire it may be made up out of my debts. Should all my dear Children die without issue of their bodies my Dear wife Living one half the life Estate to go to my dear Wife during her life the other half to Thomas Chapman Simon & Robert Luttrell & Thomas Chapmans Children namely Carr Chapman Chas Chapman & Jenay Chapman during their lives & then to their Children if any and after the death of my Dear Wife the whole of what she has for life in the last Clause to Thomas Chapman in Trust for the forementioned Children & my Trusty Boys Daniel & Arch Equally to be divided between them Signed and Written with my own hand January 23. 1790.
William Carr
At a Court Continued and held for Prince William County the 8th day of February 1791. This last Will and Testament of William Carr Gent. was presented to the Court by Simon Luttrell and Thomas Chapman Executors therein named and it appearing to the Court that the said Will is all wrote with the hand of the Testator Ordered that the same be recorded and the said Exors having performed what is usual in such Cases Certificate is granted them for Obtaining a Probate thereof in due form.
Teste Robert Graham Ct. Cur.
A Copy Teste
Philip D. Dawe Ct. Cur.
William Carr Gent.
(Will) Copy
174