Charles Mahoney v. John Ashton. Deposition of Nicholas Lowe Darnall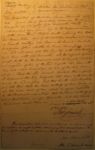 The Deposition of Nicholas Lowe Darnall aged 64 years being first duly sworn on the holy Evangels of Almighty God deposeth & saith
That about four years ago he the Deponent received a Letter from Doctr Richard Smith informing him that his man John, some of Mr Ashtons people, and some of Frank Worthys had been with Samuel Sheckells to enquire of him wether he knew Ann Joice and if she did not come into this Country with Lord Baltimore and live with Col Darnall. at the request of said Doctr Smith he the Deponent went to Samuel Sheckell and enquired of him if the said Negroes had been with him and what knowledge he had of the said Ann Joice. That the said Samuel Sheckell then informed the Deponent the said Negroes had been with him to make the said enquiry but that he the said Sheckell had told them that he knew nothing of Ann Joice and had never heard of her which he again repeated to the Deponent and added that the knew nothing of Lord Baltimore or Col Darnall but had heard there were such men.
Sworn to before me in open Court this 28th of May 1797. Jno Gwinn Cl
This deposition to be read in evidence in all or any of the petitions brought by those claiming to be descended from Ann Joice if the witness dies or is unable to attend Court.
John Johnson for Petr John T. Mason for Defts
turn over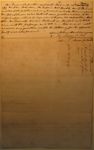 Mr Darnall further deposeth that on the 28th [illegible] May 1797 Mr John Johnson, the Depont, Mrs Hurdle, Mr Talbut and and two of the petitioners being present, and all that were present Mr John Johnson asked Talbutt some questions relative to the subject upon which he was about to give his deposition; that he Mr Darnall touched Talbutt on the foot and took him into the passage and told him that he ought not to answer any question until the Attorney for the opposite party was also present.
Admitted without being sworn to. Jno Johnson for Pet. John T. Mason for Masters
3 3/4
Richd L Darnall
(Samuel Sheckell knew nothing of Anne Joyce)
filed 30 May 97
No 11.