Charles Mahoney v. John Ashton. Depositions of Anne Hurdle & Henry Davis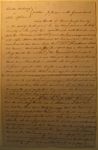 Anne Hurdle of Prince Georges County in the seventy fourth year of her age being sworn, on the holy Evangely of Almighty God, deposeth and saith that she never saw the Petitioner, untill lately and she has no acquaintance with John Ashton the Defendant, but has seen him; that she never knew or saw Anne Joyce from whom she understands the petitioner claims his freedom, that about, fifty four years ago, or thereabouts Mary Hurdle the mother of the Deponent's late husband had been summoned as a Witness to Prince Georges County Court for one Daniel Lee a Mulatto who had petitioned for his freedom against John Wright and went to Court & was sworn as she heard her Mother in Law say when she returned from Court; that she understood from her that Daniel Lee was to be free when he was thirty one years of age, & that she said she knew when he was born; that when she returned, she said that it was the way of the great people that they wanted this kind of servants to serve longer than they ought to serve; that she said Just so they served Anne Joyce's family, that by all accounts they are in confinement now and they ought to have been free long ago That the said Mary Hurdle was an Old Woman at that time and has been Dead about thirty years; ago that the Deponant has always understood that the said Mary Hurdle was one hundred and two years of age when she died. That some of the company asked her who Anne Joyce was and she said she came into this Country a young woman and Lord Baltimore that the said Mary Hurdle then lived near Nottingham and this Deponent and her husband lived with her. That she always lived in Prince George's County as the deponent understood from her; that she came into this country when about thirteen years old & served her time for her passage for (years)  
years in the neighbourhood of Upper Marlbrough as she had heard her say; & she has understood from Mary Hurdle that she came into this Country about the time that Lord Baltimore came in; That she recollects nothing further
Sworn before Bullen
Montgomery County May 6th 1797 Henry Davis aged about sixty seven years made oath before me one of the Justices forh for said County on the holy Evangels of Almighty God to the truth of his answers made to the annexed Interrogatories which are as follows. The first he says, that he knows John Ashton by sight only, and that he has slightly know Chas Mahony about three years. To the second he answers that he never knew Joice.
To the third that he well remembers to have heard his Father says that Joice a girl about 17 or eighteen years of age was born in barbadoes taken from thence, to England and brought to Maryland by Mr Calvert, (the then proprietor) that upon his returning to England he made a present of her to Mr Darnal and that he has heard his Fathers Brother David Davis say the report was that Joice if Justice if Just was Done, was intitled to her Freedom
To the fourth, that he has heard his Father say Joice and sons and daughters, the name of the latter he doth not remember, the sons David, Frank, and Tom, and that there was another whose name he doth not recollect, nor does he their sur names, Tom excepted, which was Crane
To the fifth he says that he doth not
To the sixth, he answered as to the fifth
To the seventh he answers as in the third
To the Eighth, That he hath not any knowledge more than he has stated.
sworn before George French
one copy Jno Gwinn, cl