Robert Thomas v. Henry Pile. Deposition of Jane Digges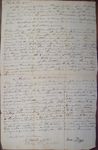 Charles County sct.
At the request of Robert Thomas petitioner for his freedom in the Genl. Court against the revd. Henry Pile the following deposition of Mrs Jane Digges wife of Henry Digges was taken. The queries and Iterrogatories of the council for Petitioner and Defendant, being first severally propounded to her. To which she respectfully gave the underwritten answers
Answers to petitioners queries
I have Known the Petitioner Robert Thomas ever since he was born, and have also known the revd. Mr Pile ever since he was a little Boy. have often heard it said in general conversation that the Petitioner was descended from a free person, but do not recollect when or from whom this conversation issued. It happened when I was very young and was probably amongst others from the Mingos themselves. I Know Judah the mother of the Petitioner, at present in possession of the revd Mr Henry Pile, and have Known her ever since she was born I also Knew Sophia, the Grandmother of the petitioner and have known her for forty or fifty years past; I knew the Grand great Grandmother of the Petitioner and have known her ever since I was born, she was called Betty Mingo; and I have frequently heard that her Mother was a white woman, but I do not recollect from whom. I knew nothing of Elizabeth Thomas.
Answers to Defendants queries
I knew Betty commonly called Betty Mingo; she once belonged to Mr Wharton of St. Mary's: and I have heard she was exchanged by him, for another Negro, with a certain Mr Stone of Charles County. Betty Mingo Died about nineteen years ago she was very old, but how old exactly I cannot pretend to ascertain. she left many children and grand children, also great grand children. all of her children were grown up and some of them were pretty old. I have heard that Betty Mingo had two children a Son and a Daughter, while she lived with Mr Stone. Their names I think were Robbin and Peg. I have seen Peg the Daughter of Betty Mingo and remember that she lived with Mr Semple in Portobacco as his slave. She was a dark Mulatto. I had very little acquaintance with Peg, and never had much conversation with her I do not remember ever to have heard her say she was free or that she ought to be so. The Petitioner has allways been reputed to be a slave and has been so held, as were his mother grand mother and great grandmother. and further, this deponent knowns not.
Jane Digges
Admitted to be read in Evidence
G. Duvall for Petrs.
Philip B Key for Defdt.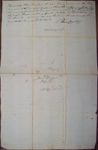 I do certify that Mrs Jane Digges being sworn on the holy Evangels of Almighty declared that the within answers, to the queries proposed to her as within mentioned, are true to the best of her knowledge and that she knows nothing further relative to the Petitioner or his family. Given under my hand in Charles County this twentieth Day of July 1792
Ben: Contee
5½
Jane Diggs
17.
filed 31. Octo 1794
5½
Jane Digges's Deposition
No. 17. Entered