Mima Queen v. John Hepburn. Minute Book Entry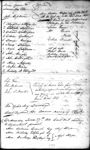 Jury sworn the first six on the 25th and the last six on the 26th June 1810.
June 27th[?] Verdict for Defendant.
1. Alexander McCormick
2. Clotworthy Stephenson
3. William Worthington
4. William Graham
5. Daniel Rennor
6. James Deaver
7. Joseph Deleplano
8. John Hough
9. John Hollingshead
10. Henry A. Callis
11. Joseph Thomas
12. Nicholas B. Vanzant
Witnesses for the Petitioners
Simon Queen
Mrs. Quaid
" Nevitt
Gabriel Duvall
Wit for defts
Robert Sewell
Nicholas Young
Danl. Carroll of Dud.
Jury fee paid
[sampling]