Georgiana et al. v. Edward Swann. Petition for Freedom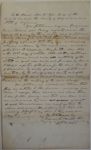 Your petitioners, negroes Georgiana, Moses, Thomas, and Mary, infants, under the age of 21 years, by their mother and next friend Christy Brown formerly Christy Dunbar who is a free person, would respectfully represent that they are unlawfully detained as slaves by Edward Swann, as admr of Richard B. Alexander. They further shew that on the 21st day of October 1854, at their instance a warrant was issued, under with authority of the Statute in such case made and provided by Charles P. Shaw a Justice of the Peace for the said County of Alexandria, by virtue of which your petitioners were taken by the Sheriff of said County out of the possession of the said Edward Swann, and now remain in the custody of the said sheriff.
Your petitioners are advised, and believe, that they are entitled to their freedom, and pray your Honor to assign them counsel, and allow them to sue for their freedom. And that your Honor will order a summons to be issued out of your against the said Edward Swann commanding him to appear and answer this petition, and that all necessary process may issue & they will ever pray &c
The Petitioner by Francis L. Smith their counsel.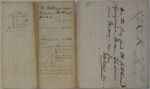 We the Jury find for the Plaintiffs in the issue joined
W. D. Stuart Foreman
We the Jury find the petitioners Georgiana, Moses, Thomas and Mary are free
W. D. Stuart For.
The Petition of Negroes Georgiana & others for freedom.
For Freedom
Alexander's Admor
Filed November 12th 1856.
1836
Novr 13th Petn filed & F L Smith assigned as counsel
18th Sum to answr petition awarded to Swann
1838
May 24th. Jury. Ver: for freedom of petitioners. Mo: to set aside verdict. Mo: overruled
| | |
| --- | --- |
| 90 | |
| $7.15 | Clerk |
| 2.50 | Atty |
| 1.50 | [illegible] |
| 3.00 | Shff[?] |
| 3.00 | Wits |
| $18.05 | |