Christiana Dunbar v. Richard B. Alexander. Agreement of William T. Swann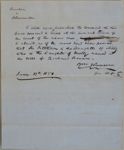 I will agree, provided the councel in this Case proceed to trial at the present term of the Court of the above case, [strikethrough] to true to admit, as if the same had been proved that the Petitioner is the Daughter of Milly who is the Daughter of Molly named in the will of Richard Brown.
Wm T Swann
for Defts
June 13th 1850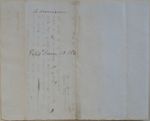 Admission.
Filed June 13. 1850.