Phillis Shiner v. Levi Pumphrey. Petition for Freedom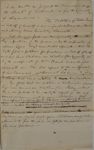 The Petition of Phillis Shiner in behalf of herself & her infant children Ann, Harriet, and Mary Ann humbly sheweth.
That she is in Jail in this County committed by a Justice of the Peace, as by the certificate of Adam Lynn Esqr. herewith said appeareth. That she hath filed a petition for freedom in behalf of herself and her said Children in Washington County as by the certificate of Wm. Brent herewith filed appeareth. She also refers to the certificate of her Counsel, Mr Dermot, also herewith filed, to shew that she is entitled to sue her freedom.
She states that her petition in Washington aforesaid has her served on Washington Robey, & that he is, or pretends to be, only the agent of the real owner or claimant of your Petitioner. that one       McKenzie and       Franklin and       Armfield now in Alexa County she is informed & believes that the only person now claiming her & her said children is one Levi Pumphrey of Washington County who had & claimed the your said Petitioner and her said Children as slaves and your Petitioner prays to be allowed to sue the said party for her freedom in forma pauperis.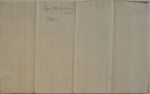 Negro Phillis Skinner & als
Petition