Rachel Shorter et al. v. Ann Casanave. Agreement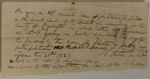 We agree, in the several cases of petitions for freedom in the Circuit Court of the District of Columbia for the County of Washington in which either Mrs Casanave or Mr N. Young are parties defendants and any of the persons by the name of Shorter or Oakley are parties petitioners that Richard I Morsell of Prince Georges *
H. Aston for pet.
June the 20th 1823
* County in the State of Maryland in a commission to take depositions, ten days notice to be given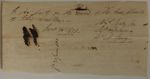 to the party on the record, of the time, place &c. of taking depositions.
Augt. Taney for Mrs Cassanave & Mr N. Young.
June 20 1823.