Rachel Shorter et al. v. Ann Casanave. Petitioners' Interrogatories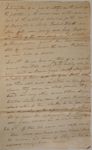 Interrogatories to be put to witnesses on the part of the petitioners in the several cases in the circuit court of the district of Columbia for the County of Washington in which Rachel Shorter and others of the same family and Lucy Oakley and others of the same family are petitioning for their freedom against Ann Casanave and others in whose service the said Petitioners are now held as slaves.
Int 1st. Do you know any thing of a woman named Ann Wells and one named Betty Oakley who formerly lived in Prince Georges County Maryland or either of them and if yea state what was their state and condition in life, from whence they came, in what family they lived and every other circumstance and particular which has come to your knowledge about either of them whether it be from your own knowledge on the information of others and if from the information of others state from whoever and of what time?
Int 2nd. If those two women were white women state what you know or have heard about the women and cause cause of them and their descendants having become slaves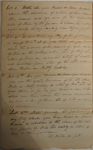 Int. 3 State all you know or have heard about the children of either of those women then names and ages and of the disposition made of them by the persons to whoever the mothers respectively belonged or by whom they were possessed?
Int. 4. Do you know any thing of the petitioners or any of them? and if yea state all you know about the manner of the descent of each or any of them on the mothers side, and if they or either of them are descended entirely by maternal ancestory from either of the said women Ann Wells or Betty Oakley.
Int. 5th Do you know or have you heard who were the Grand Children of the said Ann Wells or Betty Oakley or either of them? And if yea state as far as you know or have heard what were their names and what disposition has been made of them, and if held as slaves, by whom.
Int. 6th State generally and particularly any thing which you may know or have heard in relation to the claims of the said two families of Wells and Oakley or either of them to their freedom
H. Ashton for peto.