Mary v. Lewin Talburt. Petition for Freedom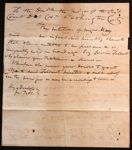 The petition of negro Mary and her infant child humbly sheath that she is entitled to her freedom & is unjustly held in bondage by Lewis Talburt, who claims your Petitioners as slaves.
Wherefore she prays your Honors to grant sbpa to said Talburt directed & such relief in the premisses as may be according to law.
Key & Dunlop for Petrs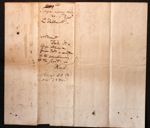 560
Negro Mary & child
vs
L. Talburt
Petn
Mr Brent
File it & issue sbpa & give Petr. a a certfe. of the pendency of the suit.
K. & D.
Filed 26th Nov 1830.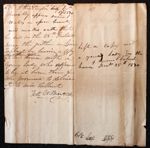 Personlly appears David I Waters in open Court and makes oath that he did on the 25th Instant serve the within on Lewin Talburt by leaving a copy of the within notice at his House with a Young Lady who appeared to be at home there & who promised to deliver it to said Talburt.
Test W. Brent clk
427
Left a copy with a young Lady in the house of Lewin Taburt Decr 25th 1830
560427379