Ann Williams v. George Miller & George Miller Jr. Petition for Freedom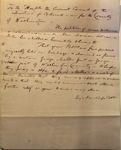 The petition of Anne Williams a coloured woman & Ann Maria, Tobias, & John her children humbly sheweth
That your Petrs are free persons unjustly held in bondage & claimed as slaves by a certain George Miller Senr or George Miller Junr of Washington County. Wherefore they pray a sbpa to said Miller's & each of them directed that they may appear & answer hereto & that they may receive such other & further relief as your Honors may allow.
Key & Dunlop for Petrs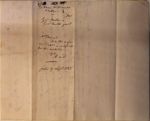 89. 10. 167 51
Anne Wiliams & children
vs
Geo Miller & Geo Miller junr
Pet.
Mr Brent
File this & give the Petrs a certificate for their protection.
Yrs
K. & D.
filed 19 Sept 1828.