Phillis Clagett v. Ann Gibson. Petition for Freedom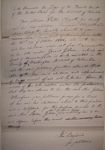 Your petitioner Phillis Clagett, for herself and her two children, Trueman Clagett and Mary Clagett, humbly sheweth to your honors that by a deed of Manumission dated the 31st day of October 1826, she with her said two children were set free & manumitted by her late master Gerard Gibson, which said Deed of Manumission is duly recorded in the County of Washington District of Columbia: and the said petitioner further sheweth that she with her said children are apprehensive of being carried off and sold by Mrs Ann Gibson, the widow of her late master under the pretence that they are slaves to her the said Mrs Gibson Wherefore your petitioner prays for a trial of her and her childrens claim to their freedom and a subpoena for this purpose directed to the said Mrs Anne Gibson admx. of Gerard Gibson commanding her to be and appear before this court at the evening term thereof.
Wm Bussard for petitioners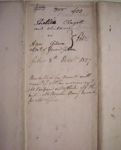 423 317 402
Decr 1828
Done
Phillis Clagett and children
vs
Ann Gibson admx. of Gerard Gibson
Petn
filed 8th Decr. 1827.
Docketted by consent with agreet. if Mr Key advises agst. Mr Bussard will[?] [illegible] off the suit. Mr Brooke Berry consenting for Mrs Gibson