Emanuel Gasbury v. Henry W. Ball. Petitioner's Bill of Exceptions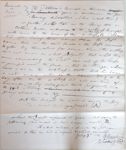 The Petitioner's Counsel in this case prays the Court to gave in evidence the following depositions (here insert them) & further proves that in the Spring 1812 a certain person unknown to the witness brought with him to the house of the witness in this City the Petitioner that after being there some time the Deft came there Χ the said person & the Deft conversed together by themselves for some time (the witness does not know on what subject) that while they were conversing the Petr ran out of the house & jumped over the fence— that the stranger, whose horse was in the witness's stable, took his horse & rode away with on the same day or the day after & the witness did not see him afterwards & has subsequent then to frequently seen the said Petitioner who has resided here and going going about in the City.
And then prayed the Court to direct the Jury (here insert the prayer mark'd [A]
which the Court refused to give— but gave the following (here insert Mr. Jones's prayer)— mark'd [B]
To which refusal & opinion the Petr's counsel except & this his bill is signed sealed & enrolled
July 7th 1814
W. Cranch (seal)
N Fitzhugh (Seal)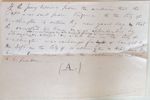 If the Jury believe from the evidence that the Petr was sent from Virginia to the City of Washington to return by new years day & that he overstaid his time & was apprehended by Straughan who was authorized by Wm Roult to dispose of said negro & escaped & while here in the City of Washington was exchanged for by t or bought by the Deft in the City of Washington & kept here by him ever since then the Petitioner is entitled to his freedom.
(A.)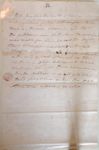 B.
If the Jury find the facts stated in the said Deposition of Roult & Straughan to be true as therein stated, and that the petitioner was at the time the exchange was made for him, by said the Deft & said Straughan as stated in the said Straughan deposition, at large & absconding in the City of Washington, and was taken after by Deft subsequent to such exchange & kept there ever since, then the petitioner is not entitled to his freedom under the said statute entitled, an act &c.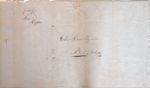 Gasbury
vs
Ball
Exceptions
John Law Esquire
Bank of Washington