Elizabeth Bentley v. Thomas Keen. Petition for Freedom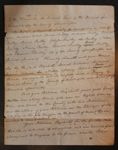 The petition of Elizabeth Bentley for herself and on behalf of her children to wit. Daniel Bentley, William Bentley, Susanna Bentley, Dennis Bentley, Johnson Bentley, Lee Bentley, Nelson Bentley, Nancy Bentley, Rebecca Bentley, Anna Anne Bentley and Eleanor Bentley, all of the County of Washington and District aforesaid Humbly sheweth unto your Honors that they the said Elizabeth, Daniel, William, Susanna, Dennis, Johnson, Lee, Nelson, Nancy, Rebecca, Anna Anne and Eleanor, are unjustly and unlawfully held in Slavery by Thomas Keen of the County of Washington and District of Columbia aforesaid
That your Petitioner Elizabeth's great, great Grand Mother was Mary Davis, who was an English woman born, and came to this Country with Lord Baltimore— and the others of your Petitioner are the children of the said Elizabeth and therefore on the ground of descent they are entitled to their freedom.
Your Petitioner Elizabeth Bentley further states that she is a native of Maryland, and was carried from Maryland to Virginia by her former Master John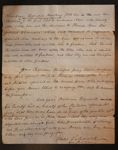 Hawkins. That said Hawkins sold her in the and her children in the state of Virginia aforesaid in the year 1790 to William Keen, who shortly after sold her and her children to Thomas Keen the present claimant, which said removal to Virginia as aforesaid was contrary to the Laws of Virginia in such case provided, and entitles her to freedom. That her said children were all born after the time when she is advised she was entitled to freedom, and that they are also therefore entitled to their freedom
Your Petitioners therefore pray that a subpena may issue against the said Thomas Keen of the County and District aforesaid in the usual form to be and appear before your Honors there to recognize &c. and to answer the premises.
And your Petitioner Elizabeth on behalf for herself, and on behalf of her Children aforesaid pray that they may have such trial of the question afsd as the Law provides in such cases. That they may be acquitted & discharged from their present state of slavery and such other relief as to your Honors may seem [illegible] to Law, and they will pray &c
James S Morsell for Petitioners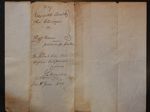 289
Elizabeth Bentley & her children
vs
Thos Keen
petition for freedom
Mr Brent file this & issue subpena
yrs
J. S. Morsell
filed 3d June 1809.