Nan v. Daniel Moxley, Elizabeth Crow, Edward Edelin, & Harriet Beans. Circuit Court Report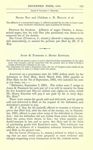 The affidavit of a manumitted negro, is sufficient ground for an order to issue a summons returnable immediately upon a petition for freedom.
Petition for freedom. Affidavit of negro Charles, a manumitted negro, that his wife Nan (the petitioner) was about to be removed out of the district.
The Court (Fitzhugh, J., absent,) allowed a subpœna, returnable immediately, to answer the petition just filed by Mr. F. S. Key.