Charles Mahoney v. John Ashton. Deposition of Eleanor Carroll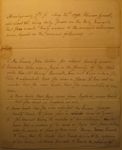 Montgomery Cty Ss May 24th 1792. Eleanor Carroll, aged about 86, being duly sworn on the Holy Evangels, that shew would truly answer to the annexed interrogatories, deposed in the manner following
1d Has known John Ashton for about twenty years
2d Remembers there was a Joyce in the family of the Woodyard, then Mr Henry Darnalls, does not know where she died, & understood that she was a slave. 3d Does not remember that she ever heard, that she was entitled to freedom.
4. Never heard that Joyce came from England; never heard that she lived in England at all.
5. Never heard that she was adjudged by Prince Georges County Court to serve for a number term of years.
6. She does not know, the number of her children: has but knows that a woman of the name of Joyce had some children, who the names of some of them were Davey, James, Frank, & Tom; that she thinks that Frank died in the possession of her Father, Mr Henry Darnall, & Tom in the possession of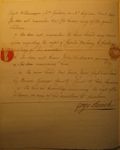 Capn Williams, or Mrs Gordon, or Mr Stephen West: that she does not remember that she knows any of the grand children.
7. She does not remember to have heard any conversation respecting the right of Charles Mahoney to freedom or of any of his ancestors.
8. She does not know John Hickman, or any thing 9. She does concerning him.
10. She never heard that Anne Joyce Cross was bound by Prince Georges County Court to John Chapman.
11. She has no knowledge concerning the right of the petitioner, or any of his ancestors to freedom.
George French