Charles Mahoney v. John Ashton. Deposition of Peter Harbard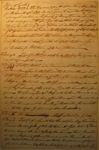 This Day came before the Subscriber a Magistrate for the County afsd Peter Harbard aged as he says about 77 years who says he was born in the family of Henry Darnall who resided at the Wood Yard in the aforsd County. That at the age of 22 he was purchased by George Gordon and continued the property of sd Gordon until he came into the possession of Stephen West of whom he purchased his Freedom. being asked the several Interogatories [strikethrough] agreeable to a paper handed me signed G. Duvall for Petitioner replyed as follows.
To Query 1. Replyed that he knew Charles Mahony having seen him about 10 years past
To Query 2 & 3 Replyed that he well knew a dark Mulatto woman by name Nanny Joyce, that she was his Grandmother and lived at the Woodyard in the family of Henry Darnall. That he hath frequently heard her say that she came into Maryland with one of the proprietors of this State an Indented Servant for four years. That she was Sold by sd Proprietor to Henry Darnall as a Cook and that when her term of Servitude expired Darnall burnt her Indenture, and sent her to a Benjn Hall's where she was kept in a Kitchen Cellar for five or six Months. and B
To Query 5. He [strikethrough] Hath no knowledge of
To Query 6. Replyed four Sons & two Daughters, viz David Jones Francis Harbard (father of Peter the Deponent) John Wood & Thomas Crane, Suzan Harbard & Polly Harbard. David Jones lived and dyed in the family of Henry Darnall, as also Francis Harbard, John Wood & Thomas Crane. That he knows several of Suzan Harbards children, viz Charles who belonged and dyed the property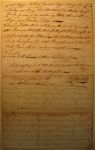 of Wm Digges Father of Ignatius Digges late of this County Sukey now living Near Baltimore in the family of Charles Carroll of Carrolton. Polly who once lived in the family of Ignatius Digges.
To Query 7th Replyed that he hath frequently heard his Grandmother Ann Joyce say that if she had her Just right that she ought to be free and all her children. He hath also heard his Uncles David Jones John Wood Thomas Crane and also his Father Francis Harbard declare as much
To Query 8 9, 10 & 11. He knows hat no knowledge of.
The foregoing being read to Peter Harbard he declared that he was ready to swear to the truth of it.
Rd Cramphin
The foregoing taken at the request of Charles Mahoney who was present.
4 1/2 sides
6
Peter Herberts declaration
Mahoney
No 6
filed 1 June 1796