Robert Thomas v. Henry Pile. Deposition of Richard Barnes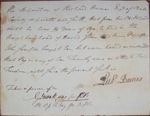 The Deposition of Richard Barnes Esqr of Charles County deposeth and saith, that from his Childhood until he was 14 years of Age, he lived in the Neighbourhood of David Stone, and knew Peg after John Semple bought her, but never heard or understood that Peg or any of her Family were entitled to their Freedom, until Since the present Suit.
Richd: Barnes
Taken in presence of us.
G. Duvall atty. for Petr.
Philip B Key for Defdt.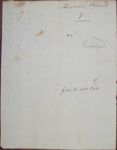 ¾ sid
Richard Barnes
7.
Entered
filed 31. Octo 1794