Esther Bradley v. Elizabeth Wilson. Minute Book Entry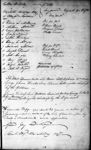 Jury sworn. Verdict for Deft.
Jury fee pd.
1. Thomas A. McKenney
2. Anthony Holmead
3. Edgar Patterson
4. George St. Clair
5. John Renner
6. Thomas C. Hodges
7. Jeremiah Mudd
8. Joseph Forrest
9. John Heugh
10. Benj Sprigg
11. Joseph Clarke
12. John R Bussard
Wit. for Pet.
William Bond
Margaret Tolmie
Walter Turner
Wit. for Deft.
Robert Brent
George Blagden
Barney Crook
defendants Petitioners exceptions
John J. Stull Clement Newton John Boone Clotz Stephenson Wm Moore George Johnson Horatio Jones & Samuel Collingwood challenged by the petitioner.
Samuel Harkness James Patterson Jeremiah Perkins George Collard John Hersey & Samuel Collingwood challenged by the Defendant.
118