Cyrus Slater v. Enoch Bell. Transcript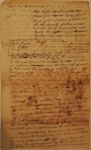 Be it remember: that heretofore, to wit: At the Rules held in the Clerks office for the of the said Court for the month of May in the year of our Lord one Lord thousand Eighteen hundred and Eighteen till paid came the plaintiff aforesaid by Edmund J. Lee his attorney and filed there a certain bill against the said Defendant in Custody and so forth and there are pledges of persecuting to wit John Doe and Richard Doe, which bill is in the words and figures following to wit (here insert the Nar H)
And at another day to wit at the rules held for in the clerks office is for the month of August in the year aforesaid (This suit having been regularly continued at the rules [strikethrough]) for the months of May, June, and July, comes the Defendant aforesaid by his attorney and says that he is not guilty of the trespass, Assault and battery and false imprisonment in the Declaration mentioned in manner and form as the plaintiff against him hath complained, and of this he puts himself upon the County and the plaintiff likewise, and the trial of this issue is deferred until the next term.
And at another Day to wit at an United States Circuit of the District of Columbia Continued & held for the County of Alexandria the 28th day of November 1818 came the parties aforesaid by their attorneys and the trial of this suit is deferred until friday next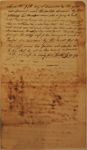 And on the fifth day of December in the year last aforesaid came the parties aforesaid by their attorneys and thereupon came also a Jury to wit. (vide M. B. 77th page the Jury in the case of Swann and[?] Lee vs McPherson & son) who being directed tried and sworn & affirmed the truth to speak upon the issue joined upon their oaths and affirmation returned the following verdict to wit. "We of the Jury find for the Pltff. & assess his damages to 1 cent."
Therefore it is considered by the Court that the Plaintiff recover his freedom and also his Costs by him about his suit in this behalf expended & the said Deft. in mercy &c, Costs $15.73
Negro Cyrus Slater
vs
Enoch als. Evan Bell
Sketch
Nov. 1818
No 4