Charles Taylor v. Ariss Buckner & Bernard H. Buckner. Petition for Freedom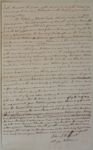 The Petition of Charles Taylor otherwise called called Charles a Coloured person humbly complaining sheweth unto your Honors that he is free and of right entitled to his freedom and that being so entitled he be on the 24th of September instant filed in the Circuit Court of the District of Columbia for the County of Washington in the District of Columbia his Petition for freedom against Bernard H. Bucker and Aris Buckner who claim your Petitioner as their slave which said Petition is now pending in and before and remains undecided by the said Circuit Court That your Petitioner is now confined in the Jail of the said County of Washington and in the custody of the Marshal of the said District of Columbia as a runaway That your Petitioner is informed and verily believes that the said Bernard H Buckner and Aris Bukner intend to remove your Petitioner from the County and District aforesaid and from under and beyond the Jurisdiction of the said Circuit Court and thereby prevent and interfere with the due administration of Justice and for which purpose the agents of the said Bernard H Buckner and Aris Buckner and Aris Buckner are now here in the said County of Washington In tender consideration whereof and inasmuch as your Petitioner is [illegible] at and by the street rules of the Common Law and can only find relief in a court of Equity where matters of this sort are properly cognizable to the end therefore that the Justice Equity and right of the case may be inquired into Your Petitioner prays your Honors to grant unto him the United States most gracious Writ of Injunction commanding and injoining the said Bernard H Buckner and Aris Buckner their agents and attorneys from removing your Petitioner from the County and District aforesaid in manner and form aforesaid and also commanding the said Marshal to detain and keep in his custody and not to deliver up to the said Bernard H Buckner and Aris Buckner their agents or attorneys your Petitioner till the further order of the court and such further relief in the premises as his case may require and as in duty bound your Petitioner will ever pray and so forth
John J Dermott
Solr for Petitioner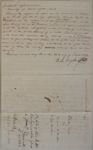 Personally appeared before me the subscriber a Justice of the Peace for the county aforesaid, Charles Taylor, the Petitioner in the within and foregoing Bill or Petition named, and after having the said Bill or Petition read and explained to him, and the nature, obligation and penalties of, and attendant on the false taking of an oath, solemnly made oath that the matters & things stated in the said Bill or Petition are, so far as they are stated to be of his own knowledge, true. And so far as they are stated to be of the knowledge of others, he verily [strikethrough] believes them to be true.
Given under my hand this 25th day of Sept 1833.
B. K. Morsell (Seal)
340
May Term 1835
No 3.
Charles Taylor
vs
Bernard H Buckner & Aris Buckner
On filing this Bill let Injunction issue as prayed
J S Morsell
25 Sept 1833
W. Brent Esq
Filed 25 Sept 1833.