Daniel Wells v. Benjamin F. Lewis. Deposition of Mary Diggs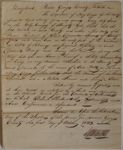 The Deposition of Mary Diggs of the County aforesaid Aged Ninety Years and upwards being duly Sworn on the Holy Evangely of Almighty God, Saith that she has resided in said County and within a few miles of the Former Residence of Robert Darnall Upwards of Seventy Years and have been in the early part of her residence in habits of Intimacy and frequent Visiting in said Darnalls Family and during that time nor at any other time did she ever Know or hear of a White Woman living or being in any manner Attached to the Family of said Darnall by the name of Ann Wells. The said Mary Diggs farther states that the Mother of her Servant, Michael was a Molatto Woman and always a Slave.
Taken by consent of parties and at their request in relation to a Suit now depending in the Circuit Court for the District of Columbia in Which Rachael Shorter & others is plaintiffs and Ann Casnivave is defendant.
Sworn to, before the Subscriber, One of the Justices of the peace for Prince Georges County this first day of October 1823.
[illegible]