Ex Parte James. Writ of Habeas Corpus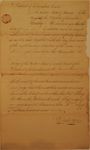 The United States of America to the Marshal of the District of Columbia, Greeting: We command you that the body of Negro Jim by whatever name he may be called in our prison, under your custody detained as it is said, together with the day and cause of the caption and the detention of the same negroe Jim you have before the Honorable the Judges of the United States Circuit Court of the District of Columbia at the Courthouse in the Town of Alexandria, immediately after the receipt of this writ to do and receive what our said Judge shall then and there consider concerning him in this behalf and have then this Writ. Witness the Honorable William Cranch, Chief Judge of our said Court at Alexandria this 3rd day of December Eighteen hundred and seventeen.
G. Deneale Cl: Cur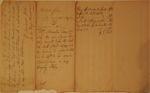 Iin Obedience to the Within Writ I have the body of Negro Jim before your Honours, he was commited by Abraham Faw Esqr. which Commitment is herewith Returned as Part of this Return. he is not detained in Any other Case whatsoever
D. Minor DM
for W Boyd Marshal
Robert Glenn
vs
Negroe Jim
Hab: Corpus
1817. November Term 12' day, the said Negroe Jim being brought before the Court by Writ of Habs. Corpus and on hearing it ordered that he be deld. to his owner Robert Glenn on his paying costs
W. H.
| | |
| --- | --- |
| Filing als. 19 order 26 app 18. | .62 |
| Motion 26 Habs: Corps. 26 ret 26 | .78 |
| acc: oath 18 filing war 18 | .36 |
| Jud 18 Order for discharge 26 | .44 |
| Tc 20 C 20 | .40 |
| | $2.60 |