Mary Derrick v. Alexander Moore. Petition for Freedom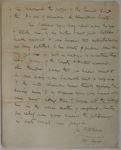 The Petitioner negro Mary infant under the age of twenty one years by her Mother & next friend Matilda humbly represents to your honours that notwithstanding her being entitled to her liberty & freedom from slavery, yet she is held in bondage by a certain Alexander Moore of the County & District aforesaid. She therefore prays that your honours direct[?] to be issued from your honourable court a subpoena to the said Alexander Moore, thereby [illegible] & ordering him to be & appear before your honours at your next sitting, there to answer unto the petition in the above matter of complaint. Trusting for relief from your honours, the petitioner as in duty bound ever prays &c.
for Petitioner
Tho: Turner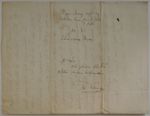 Negro Mary inft by Matilda her next friend
vs.
Alexander Moore
Petn.
Mr Lee
Will please file this petition & issue subpoena.
Tho. Turner
for Ptr.