Mariah White v. Joseph M. White and Richard Henry Williams v. Joseph M. White. Francis Scott Key's Notes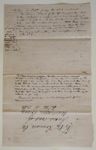 Mr. Key, for Petr, prays the Ct to instruct the Jury: That if the Dft brought the Petr to this district, & suffered her to hire herself out, & offered to sell her to her husband, a free mulatto, &c (see the within prayer) That These circumstances are conclusive evidence that the Petr. was brought in for sale, or to reside.
This case is not within the exception, or proviso of the 4th §.
Md. act of 1792: allowing the Refugees from St Domingo to retain their slaves.
5. H. & J. 107
Stewart v Nokes
That they must be satisfied the Dft must have brough The Petr: is not entitled to freedom under the 1st section of the act of 1796 unless she was brought into this county by the Dft for sale or with intent to reside therein. And that the circumstances aforesaid, altho proved to the satisfaction of the Jury, are not conclusive evidence that the Petr. was brought into this County with such intent, or for sale.
Permanent residence, contradistinguished from sojournment.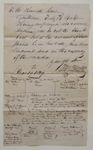 Challenged by Petr.
Robt. Miller
Berry
by Mr. White
H. Pyfer
Broom
2 cases
Maria White v. Jos. M. White
Rich. H. Williams v. Same
Negro Maria White
v.
Jos. M. White
Neg. Richd. H. Williams by his mother & next friend
v.
Jos. M. White
Petitions for Freedom
Mr. French - Wits. for Petr.
Mr Beale - The Petr. was brought here last year by the Dft a member of Congress and has been hired out by his authority.
Mr Swann - Contra
The Petr was brought here by the Dft her master, last winter to wait upon his family during this session. being pregnant she cd. not conveniently be carried back. & at her own request was hired out, until her master's return this winter.