Delia v. Thomas Offutt. Petition for Freedom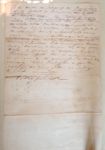 The Petition of negro Delia and Stacey, Edmund & Madison her children infants, humbly sheweth that your Petitioners are entitled to their freedom & are unjustly held in Bondage by a certain Thomas Offutt of the aforesaid County & District who claims your Petitioners as a slaves, and your said Petitioners are ready to prove their said claim to freedom whenever your Honors may direct. Wherefore they pray your Honor to grant a subpoena to said Thomas Offutt that he may appear & answer to the premisses & that they may have fact other & further relief as may be according to law.
F S Key for Petrs.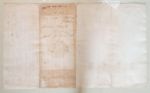 24. 211. 249. 278. 326.
Negro Delia for herself & Children
Petition
Thomas Offutt
fild. 21 June 1813