Lucy v. Stephen Cooke. Petition for Freedom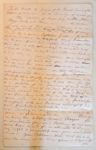 The petition of negro Lucy & John, Julia, Eliza, Emily and Jane her children humbly sheweth that your Petitioner & her said son John her said other children being all born since were manumitted in the state of Maryland by a certain Lyttleton Gale by deed dated on or about the thirty first day of December in the year of our Lord eighteen hundred & two which said deed is duly acknowledged & recorded & of which the paper herewith exhibit marked A is a true copy.
Your Petitioner states that after the execution of said deed your Petitioner was and her said son were sold for under certain conditions & restrictions, & that the man who purchased them, a certain John Rogers fraudulently & illegally seized your Petitioner & her said son & with a design to sell them for life & in violation of the provision of said deed & against the laws of the said State of Maryland carried them out of the said State & was proceeding with them in the State of Virginia when he was pursued by person from Maryland who had become apprized of his said fraudulent conduct & was overtaken near Leesburg in Virginia in or about the year eighteen hundred &        . That upon being thus detected the said Rogers fled & abandoned your said Petitioners & has never since been heard of, or attempted to claim any right or ownership over your said petitioners. Your Petitioner states that she & her said son were at the time aforesaid lodged with the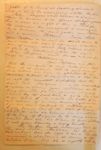 gaoler of the County at Leesburg aforesaid, until it should be ascertained whether the said John Rogers would appear & claim them & answer to the offence alleged against him & prove his right to them. That for the expenses thus occasioned it was agreed by & between the said gaoler your Petitioner and a certain Stephen Cooke that your Petitioner & her said son should serve the said Cooke who was to advance a certain sum of money, about forty dollars, until it should be ascertained whether the said John Rodgers would claim & prove his right to your Petitioners.
Your Petitioner now states that she has served the said Cooke from that time to the present, that the sum of forty dollars has been in addition to her services tendered to said Cooke, & that there is not the remotest probability that the said John Rodgers will ever attempt to return & claim your petitioners as the time permitted[?] for her service is nearly expired by the said deed, & as he has not been heard of, & would be liable if he did return to a very serious prosecution for his said conduct in violating a highly penal[?] law of the State of Maryland, & also she believes for a violation of the law of Virginia by the same conduct, would lose all his claim to your petitioners if not incur likewise a heavy penalty.
She therefore humbly presumes that as the said John Rogers has by his said conduct lost all right to her, & has also renounced & abandoned all claim to the possession of her, that she is unjustly held by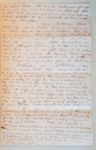 the said Cooke who has no pretensions of right to her or her said children, & that she be ought to be discharged from his said service being entitled to an absolute freedom & discharge therefrom.
Your Petitioner states that the said Cooke lives in Virginia & that she & her said children left his said service; that they might lawfully do so, as she conceived; & she now finds that the said Cooke still persists in his said illegal claim & detention & has now sent on & caused them to be apprehended & is about to carry them away out of this said district & will do so if not stayed by injunction from this Honble Court.
Wherefore your Petitioners pray that in order that their said right to a free & absolute discharge from the said Cooke's service which they conceive themselves fully entitled to may be tried & determined in this Honble Court, (& having been forcibly & illegally removed from the State of Maryland they claim the right of returning thereto & being protected by it's laws,) & that the said Cooke may answer hereto & appear in this Honble Court they pray the United States writ of subpoena to the said Stephen Cooke directed, & also that he be restrained from again carrying away your Petitioners into Virginia or removing them any where out of the jurisdiction of this Honble Court, they further pray the United States writ of Injunction to the said Stephen Cooke his agents or attornies commanding & enjoining & prohibiting them & each of them from taking carrying away & removing out of this said district your said Petitioner Lucy or any of her said children. & your Petitioner will ever pray &c.
F S Key for Petr.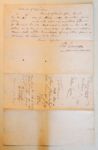 District of Columbia
County of Washington, towit.
On the 25th day of April 1809 the within named Lucy         made oath before me a justice of the peace for the said County that what is stated in the within petition as of her own knowledge is true, and what is therein stated as of the knowledge of any other person or persons, she believes to be true
Sworn before
Thos Corcoran
158
Negro Lucy & children
vs
Stephen Cooke
Petn.
Mr Brent
File this & issue sbpa & Injn with leave of Judge.
yrs
F S Key
Upon filing this bill & Exhibit & affidavit annexed, let subpoena & injunction issue as pray'd
W. Cranch
April 25th 1809
Filed 25th April 1809.