Lucy v. John Somers & Nathan Somers. Petition for Freedom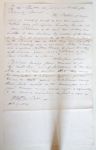 The Petition of negro Lucy on behalf of herself & her two infant children Airy and Louisa humbly sheweth that your Petitioner & her said two children are entitled to their freedom by virtue of the laws of the State of Virginia & of the laws in force in this County in & that they are unjustly held in bondage by a certain John Somers and a certain Nathan Somers of said County who claim your said Petitioner & her said Children as slaves.
Wherefore your Petitioner prays your Honors to issue the United State writ of Subpoena to the said John & Nathan directed that they may be compelled to appear before your Honors, & that your Petitioner may have just relief in the premisses as to your Honors may seem right & agreeable to the laws & proceedings in such cases.
FSKey for Petr.
Oct 17. 1812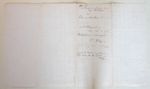 179. 79.
Negro Lucy & her children
vs.
John & Nathan Somers
Mr Brent,
File this & issue subpoena as prayed.
yrs
FSKey.
fild. 19 Oct. 1812
give the Bearer a certificate under seal for the Petrs.
FSKey.