Susan Vigel v. Henry Naylor and Mary Vigel v. Robert K. Nevitt. Petitioner's Bill of Exceptions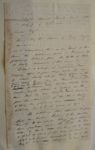 Be it remembered that on the trial of this cause the petitioner gave in Evidence the following Extract from the will of John B Kirby deceased (Here insert it).
Talbert a witness for petitioner then testified that a few days after the death of said Kirby which took place in the year 1828, George Naylor brought to her house where the mother witness was then at[?] work[?] the petitioner & her mother & sister & said George Naylor stated to witness at the time that he had brought said negroes from the residence[?] of the said Kirby & that the petitioner was between then between six & eight years of age
The petitioner then offered to prove that her brother Richard & her mother Sarah & her sister Eliza had claimed their freedom under the said will [illegible] after one brought by Sarah in 1835 in which judgt was rendered in 1838 which was defended by said Geo Naylor who then claimed to own said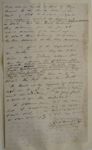 negro woman Sarah & that by Eliza brought to the March term of the court of 1840 & in which judgment was obtained against the defendant in 1842 and that it is very unusual for slaves of the age of petitioner to be separated from their parents at the time of Kirbys death to be separated from their parents, but the Court excluded this testimony from the jury: & To which decision of the court refusing to admit this testimony the petitioner by her counsel at the time excepted
On the part of the defendant his brother —— Naylor & his niece Mrs Tolson testified that they had known the petitioner from [strikethrough] her birth, that she was born the slave of said George Naylor, that they had been in the habit of seeing her almost daily and they had & had never known her to be out of the possession of George Naylor in his life time or of his admr. the deft since his death
The Court at the request of petitioner instructed the Jury as follows (here insert the instruction) The Jury found a verdict for the defendant.
The petitioner prays that this her bill of Exceptions may be signed & made part of the Record which is done accordingly this 23rd day of Novr. 1858
Jas. Dunlop (seal)
Jas. S. Morsell (seal)
Wm. M. Merrick (seal)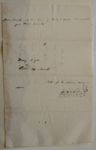 Bill of Exceptions same as above.
Jas. Dunlop (seal)
Jas S Morsell (seal)
Wm M Merrick (seal)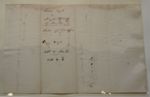 Susan Vigle
vs
Naylor admr of Naylor
Bill of Exceptions
Mary Vigle
vs
Robt K Nevitt
Bill of Ex.