Michael Oakley & Anthony Oakley v. Notley Young. Deposition of Nathan Soper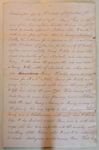 On this twenty sixth day of June in the year of our Lord eighteen hundred & eleven in open court personally appeared Nathan Soper & made oath in due form of law, that he knows Michael Oakley the petitioner for his freedom in the Circuit court of the District of Columbia for the county of Washington, against Notley Young, & that he knew the great grandmother of said Michael, who was named Jenny, & also knew the grandmother who was named Nanny, & the mother of Michael also, whose name was [ink] Henny. That this deponent was overseer for old Mr. Notley Young for twenty eight years, & first engaged with him in the year 1762. & left him about the year 1790. That during all that time, he never heard from any person whatsoever that the said Jenny Nanny or Henny or any of the family had any right to their freedom. That Jenny was a black woman with curly hair and thick lips, & her husband named Ben, was a salt water negro who had been imported into the country, with something of the Indian color. & used to be called by his master Malagareo or Madagareo Ben. That Jenny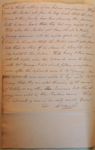 had he thinks nothing of an Indian complexion. That since the Shorters' got free, he has heard, that the petitioners & their family, have been claiming their freedom but he never heard that they had any right to it. That when the Shorters' got free, old Mr. Notley Young examined into the rights of all his slaves & said he thought that the Shorters would get free but that no others of his slaves he thought had any right to their freedom. That Jenny & Ben were both old people, when this deponent came to live with Mr. Young, & he died about fifteen or eighteen years after this deponent came to Mr. Young. And this deponent never heard while he lived with Mr. Young that they ever called themselves by the name of Oakley or any other Chri Surname, but that they always were called by their Christian names. That the deponent is now in his sixty ninth year.
Test. Wm Brent Cl.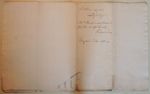 Nathan Sopor's Deposition
Mr. Brent will please to file this in 193 trials
J Law.
Filed June 26 1811