Anne v. Elisha W. Williams. Petition for Freedom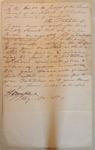 The Petition of Negro Anne of Washington County humbly sheweth that she is a free person & unjustly held in bondage by a certain Elisha W. Williams of Washington County & she therefore prays your Honors that as she is entitled to her freedom a subpoena may be issued to the said Elisha W. Williams commanding her to appear & answer hereunto & that your Honors will grant such relief in the premises to your Petitioner as to your Honors seem proper & careful.
J S Morsell
F S Key for Petr.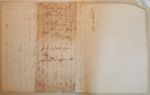 201.
Negro Anne
vs
Elisha W. Williams
Wm Brent
Filed it & issue sbpa.
yrs
F S Key.
filed 20th Apl 1811.
Sub issd. 20. April 1811