Peter Thomas v. Christiana Hamilton. Petition for Freedom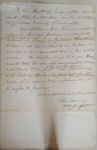 Your Petitioner Peter Thomas respectfully represents, that your Petitioner is unlawfully detained in slavery by Christiana Hamilton & that is at law entitled to his freedom in as much as he is descended from a free white woman. He therefore prays that your Honors would take his case unto consideration & direct a subpoena to be issued to the said Christiana & such proceedings to be had, as the law has provided for the trial of his claim & the enforcement of his right to freedom.
And your petitioner will forever pray &c.
John Law.
Atty for Petr.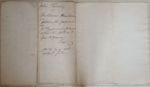 210.
Peter Thomas
vs.
Christiana Hamilton
Petition for Freedom
Mr Brent will please to file this petition & issue subpoena.
J Law.
filed 25. Jany 1810
subpa issued.