Walter Thomas & Dennis Thomas v. Alexander Scott. Alexander Scott to Hewitt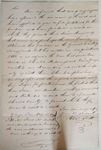 Sir
I am informed that two of my negroes have assumed the sir name of Thomas and have applied to you to file petitions for their freedom and have produced a record on which they ground their claim. A negroe of that name and perhaps the same family obtained his freedom in the General Court of Maryland but his master an old priest made little or no defence. The Case has since been tried in Charles, St Marys and Prince Georges counties and Alexandria and verdicts uniformly against them. John Campbell Esqr, (in Congress) was the negroes counsel and to him refer for particulars. The fact is that those I own are drunken worthless scoundrels and intended to send them to a farm to Charles County to prevent which they mean to resort to a suit.
I am sir very resply. your obdt servt.
Alexr. Scott
George Town 16 Decr. 1809
NB Mr. Jones Mr. Balch and Mr. Morsell on knowing the circumstances would have nothing to do with it.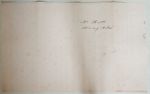 Mr. Huitt
Attorney at Law