Walter Thomas & Dennis Thomas v. Alexander Scott. Alexander Scott to James A. Porter and John Law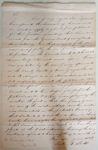 Sir
Two of my negroes I am informed have assumed the Surname of Thomas and are about to apply to you to file petitions for their freedom, grounding their claim on a record from the General Court of Maryland It is certainly true that a negroe of the above name and possibly the same family obtained his freedom in the General Court, but his master (an old priest) made small defence. The same case was tried by the said family afterwards in the County Courts of Prince Georges, Charles and St Marys, and in Alexandria and decided uniformly against the petitioners. Mr. John Campbell now in Congress was their Counsel and to him I refer you for further particulars. Mr. P B Key was employed by the masters. The fact is that these fellows of mine are two of the most worthless, drunken & notorious scoundrels in the District & knowing that Intended to send them to a farm in Charles County have adopted this expedient to prevent it Messrs Jones and Balch to whom they applyed in the first instance on hearing the Circumstances refused to have anything to do with it
I am sir, your obd. Servt. A Scott
Mr. Porter, atty at law
Washington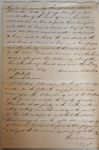 Know all men by these presents that I Alexander Scott of George Town for and in consideration of the sum of seven hundred dollars to me in hand paid have bargained and sold to Francis Newman Esqr. of Maryland two slaves named Walter and Dennis to have and to hold the said slaves to the said Frances Newman Esqr, and his assigns and I do hereby warrant the said slaves to be the said Francis Newman Esqr., his heirs and assigned. In testimony whereof I have hereunto set my hand and seal this 15 day of December 1809
Alexander Scott (Seal)
Witness
Thomas Corcoran
District of Columbia Washington County towit. On the fifteenth day of December 1809 came before the Subscriber of one of the Justices of the peace in and for the County aforesaid Alexander Scott party to the within instrument of writing and acknowledged the same to be his act and Deed and that the slaves herein conveyed are the right, title and property of Francis Newman Esqr. and his assigns according to the true meaning and purport thereof
Thomas Corcoran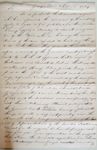 George Town 23 Decr. 1809
Sir
It is probable that two slaves of mine who have assumed the surname of Thomas may apply to you to file petitions for their freedom having applyed already to almost every member of the Bar, who on hearing the circumstances of the case refused to have any thing to do with them. They ground their claim upon a record of the General Court of Maryland by which it appears that a negroe of that name was liberated, but in that case the master Mr Henry Pile a priest, being careless as to the issue of the suit made scarce any defence. Various members of the same family encouraged by the event of this suit, afterwards filed petitions in Charles & Prince Georges Counties & one in Alexandria (then Fairfax) and the decisions were uniformly against them, testimony obtained subsequent to the General Court, division Decision having placed the thing in quite a different point of view. The Honorable John Campbell a member of the ho House of Representatives of the United States was counsel for the negroes, To him I refer you as he can give you more information on the subject than I can. The Records & depositions from Charles and St. Marys Prince Georges counties can easily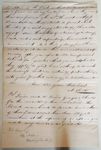 be obtained, the fact is that I intended to send to a farm in Maryland (from whence they came) these two fellows who are two the most worthless scoundrels in the District, to prevent which the idea of a suit suggested itself. I have also myself some thoughts of returning to Maryland, and a suit depending here would be inconvenient. As to their getting free, I have no Idea of it, under these circumstances especially after you refer to Mr. Campbell. I take it for granted that you will (should they apply to you) have nothing to do with the business as it can certainly put nothing into your pocket and may be troublesome to me.
I am Sir your obdt. servt.
A Scott
P S
I will send to Prince Georges & Charles for the records of these cases. Will, the blind man hired to Meade is a brother of these fellows, and him I am obliged to maintain at the expence of 30 or $40 a year and he may live 30 or 40 years, AS.
John Law Esq
Atty at Law
Washington City