William Crowner v. George B. Scott. Petition for Freedom
The Petition of William Crowner humbly sheweth that your Petitioner is a free man born of a free white woman & is unjustly held in bondage by a certain George B. Scott of Washington County.
Wherefore he prays that sbpa may be issued to said Scott, & that he may be compelled to appear & answer hereto, & that he may be discharged from his service & adjudged free according to law.
FS Key for Petr.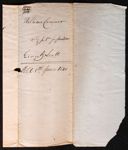 99
William Crowner
vs.
George B. Scott
petn. for freedom
Filed 8th June 1840