Thomas Butler v. Gabriel Duvall. Jury Instructions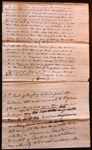 1.) If the Jury shall believe from the evidence afsd. that Dales was the owner of said slaves the Petitioners or their parents, in the States of Maryland, or in Georgetown in the District of Cola. and resided with them there and subsequently removed to Virginia and kept them in said State of Virginia one whole year together that their said petitioners are entitled to their freedom under the law of Virginia, unless the said Dales within sep the time specified in the Virginia law be complied with the requisitions of said Virginia law by taking the oath therein prescribed. + (Given)
(2) If the Jury shall believe from the evidence aforesaid that the said Dales owner of said petitioners as afsd. resident with the said petitioners in Virginia, and sold them while he so resided, to deft. whether said sale was made in Georgetown or in Virginia, the said deft then residing in Prince Georges County Maryland Washington County D.C., who then carried said slaves to Prince Georges County with intent to reside therein then the petitioners are entitled to their freedom. (Given)
3. + But if the Jury believe from the Evidence that such removal to Virginia of the said slaves was more than from 25 to 30 yrs of that said defts during ill the time he held them lived in Virginia or in Maryland or in the Wash before the bringing of this petition. That during all the time the said Dells lived, whether in Virginia, in Maryland or in the District of Columbia, the said Petitioners were continually held & used as slaves either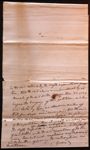 by the said Dells or by the Deft. as purchaser from him; that the said slaves were purchased by sd Duval of the said Dells, more than 20 years before the bringing of this petition, and have been held by him as slaves in virtue of that purchase ever since; and that the said Dells died some years before the filing of this petition, then it is not necessary for the deft. to offer further evidence to prove a compliance, on the part of said Dells with the said requisitions of the Virginia law, but such compliance may be presumed, and the burthen of proving the contrary thrown on the petitioners.
(Given)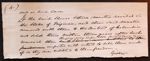 (4.) and in such case
If the said slaves & their master resided in the State of Virginia, and their said master removed with them to the District of Columbia and sold them within three years after such removal then said slaves are entitled to their freedom the jury may infer that said slavers were imported with intent to sell them and if so they are entitled to their freedom.
Given.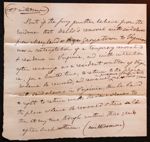 ((5) Withdrawn)
But if the jury further believe from the evidence that Dell's removal with said slaves from Maryland or Virgin Georgetown to Virginia, was in contemplation of a temporary removal to & residence in Virginia, and with intention after remaining as a resident or citizen of Virginia, for a limited time, to return to the place whence he removed; and remained in pursuance of such intent, one or two years with said slaves in Virginia; then he hand a right to return with the same slaves to the place whence he removed & there sell them at any time, rough[?] within three years after such return. (withdrawn)