Thomas Butler v. Gabriel Duvall. Affidavit of Gabriel Duvall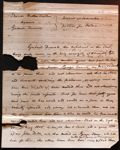 Gabriel Duvall, the defendant in this suit, being duly sworn on the holy evangels of Almighty God, [torn page] more than fourteen years back past. He has [torn page] in Prince George's County, in Maryland, on his farm there, and not elsewhere; and that his slaves and servants including the petitioners, excepting such as have been disposed of have resided there and not elsewhere during the period aforesaid. That for more than forty years back past He has [illegible] and carried on a farm in the county aforesaid, and always had a domicil there, and all the slaves which from time to time he owned, his [illegible] excepted resided there and not elsewhere: That on the 29th or 30th of May 1805, he bought Tom & Sarah and a young child of one John Dells, who then resided in George Town, and paid him for them; the others have been born since on the said farm in Prince Georges: That the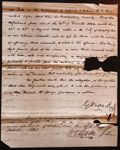 said Dells, as this defendant is informed & believes to be true, resided before that time in Montgomery County. That this defendant from about the 10th of December 1802, until the 22d or 23d of August 1814, resided in the City of Washington in an official character, and he left his Home with the intention of [illegible] that character, to which he did [illegible]: That during that period part of his slaves as [illegible] House servants resided with him, and [illegible] as [torn page] backward & forward from his residence in [torn page] farm; and at no other period did any [torn page] reside in the District. That immediately after his purchase of the said slaves Tom & Sarah in the year 1805, a aforesaid, they the said petitioners with their only child, [illegible] born, were sent to his said farm in Prince Georges, where they with all their children & grand children subsequently born have ever since resided under his direction.
He further saith that the allegation in the petition that this defendant was about to sell the petitioners out of this District to foreign purchase is untrue.
G Duvall
Sworn to and subscribed before [torn page] a Justice of the Peace for the County [torn page] and District of Columbia. This 27th day of October, 1828
W. W. Scalon J. Peace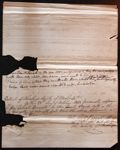 District of Columbia County of Washn. Sct
On this 28th day of October 1828 personally appears the Hon Gabriel Duvall in open Court & made oath on the Holy Evangely of Almighty God that the above statement as [torn page] is true.
Test Wm. Brent clk of the Ct. Ct. of the Dist. of Col for the County of Washington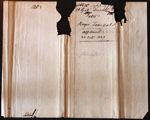 120
104 18 80
App [torn page]
Gabl. Duvall
vs
advs
Negro Tom & al
Affidavit of G. Duvall
28. Octr. 1828
Submitted