Sarah Ann Allen v. Joseph Wallingsford. Deed of Manumission and Pass for Sarah Ann Allen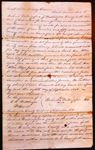 Be it known that I, Rahael Wallingsford of Washington County in the District of Columbia for divers good causes and considerations me thereunto moving as also for avid in consideration of the sum of one hundred and fifty dollars current money to me in hand paid, the receipt whereof I do hereby acknowledged, have released from slavery liberated manumitted and set free and by these presents do hereby release from slavery, liberate manumit & set free my negro woman named Sarah Ann Allen aged about nineteen years and her two female children Eliza Jane aged three years, and Julia Maria aged five months, and them the said Sarah Ann Allen, Eliza Jane, and Julia Maria, I do declare to be henceforth free manumitted & discharged from all manner of servitude or service to me my heirs executors or administrators forever. In Testimony whereof I have hereunto set my hand and affixed my seal this eighth day of September 1826.
her
Rachael x Wallingsford (seal)
mark
Signed sealed & Delivered in the presence of C. H. Wittberger
Wm Hewitt
Washington County District of Columbia, Sct.
On this eighth day of September 1826 personally appears Rachael Wallingsford party to the within instrument of writing before me the subscriber a Justice of the Peace in and for said County, and acknowledges the same to be her act and deed for the purposes therein mentioned and the negro woman and children within named to be henceforth manu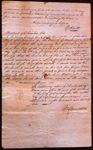 mitted and discharged from all services to her or to any person or persons claiming under her and to be free and manumitted according to Law.
Acknowledged before,
Wm Hewitt
District of Columbia Sct.
I William Brent Clerk of the Circuit Court of the District of Columbia for the County of Washington, hereby certify that the foregoing Deed of Manumission is a true Copy of the original, as filed and recorded in my office the 8th day of September 1826; and I further Certify that the bearer hereof Sarah Ann Allen of dark complexion aged about nineteen years, about five feet two and an half inches high, large full mouth, a small scar on her forehead, a small scar on her left fore finger between the second and third joints, is proved to my satisfaction by the evidences of Rachael Wallingsford to be the same Sarah Ann Allen named in the within deed of manumission.
In Testimony whereof, I hereto set my hand and affix the seal of the said Court, at the City of Washington, this eighth day of September Anno Domine, one thousand eight hundred and twenty six.
Wm Brent Clk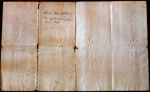 Sarah Ann Allen's Deed of Manumission and Pass