Rosanna Robertson v. Alexander Waugh. Disclaimer of Alexander Waugh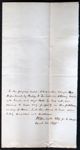 In the foregoing cases, Alexander Waugh, the Defendant, by Philip R. Fendall, his attorney comes into Court, and says that he has not, nor claims to have any property in the petitioners or any of them, but the same to [illegible] absolutely disavows and disclaims.
P. R. Fendall Atty for A. Waugh
April 30. 1835.