Jack Rhodes v. William Glover. Petition for Freedom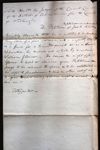 The Petition of Jack Rhodes by Kitty Green his mother & next friend humbly sheweth that he is entitled to his freedom being born of a free woman, and is unjustly claimed as a slave for a limited period or as a bound apprentice, he knows not which, by a certain William Glover. He desires the right of said Glover to hold or claim your Petitioner & prays to be released thereupon & to be established in his right to freedom & such other relief as to your Honors may seem right & according to law.
FSKey for Petr.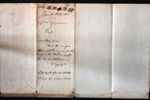 240. 334. 199. 213. 316. 249. 144.
Jack Rhodes
vs
Wm Glover
Pet.
Mr Brent,
File this & issue sbpa retble immediately & give the Petr a certe for his protection.
Yrs
FSK.
Filed 18 June 1836.
Filed 20 Sept 1836.