Elisa Wigle v. Henry Naylor. Petition for Freedom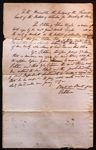 The Petition of Elisa Wigle a minor of tender age, by her next friend Sarah Wigle all of the County of Washington in the District of Columbia, respectfully represents, that your Petition Elisa is free and was born so, and that she is illegally detained by Henry Nailor admr of George Nailor decd of same County who claims to hold her as his slave.
Yr Petitioner therefore prays yr Honors that a summons may issue yr said Henry Hailor to appear before your Honors to answer this Petition and that yr Petioner the said Elisa may be returned to her liberty and the [illegible] claim of said Defendant [illegible] to be null & void and that he be compelled to pay all costs and as in duty bound will ever pray &c.
Brent & Brent for Petitioner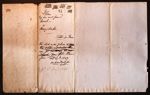 628 430. 445. 176 83. 104
Elisa by her next friend Sarah
vs
Henry Nailor
Petition for Freedom
The clerk will please to file this Petition and docket this case for trial at the next November Term file this and issue above
Oct 27th 1839
Brent & Brent for Petr.
fd. 3d Jany 1840