William v. George Milburn, John Coburn, & John L. Alford. Petition for Freedom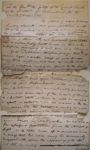 The petition of negro William humbly sheweth that your petitioner is entitled to his freedom & is unjustly held in bondage by a certain       Alford and John Coburn & George Milburn or by one of them, who has purchased your Petitioner & unlawfully holds him in their or his possession, claiming to hold him as a slave.
Your Petitioner therefore prays that he may receive legal & proper relief as your Honors may think right. and that the United States writ of subpona may be issued to the said Defendants directed commanding them to be & appear before your Honors to answer[?] hereunto. And your Petitioner further States that the said Defendants who now hold your petitioner is immediately preparing to remove him out of the reach of this Court to a distant state, where he will be unable to assert & substantiate his claim. he therefore prays that the subpona maybe made immediately returnable before you Honors and as your Petitioner is now present [torn page] your Honors in Court, where he hath come for refuge & protection from the attempts of Deft so to take him off & remove him, he prays that his case may be summarily enquired into, upon the appearing of the Deft and that he may require that petitioner be (discharged)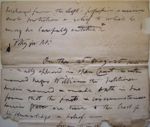 discharged from the Deft's possession & receive such protection & relief to which he may be lawfully entitled.
FSKey for Petr
On this 26 May -26 personally appeared in open Court the within named negro William the petitioner herein named & made oath in due form that the facts & circumstances herein stated are true to the best of his knowledge & belief.
Sworn to in open court
W. Brent Clk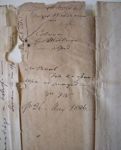 270 Trials 511
270
Negro William
vs
Coburn
Geo Wilburn
——— Alford
Mr Brent
File it & issue sbpa as prayed.
yrs FSK
fd 26 May 1826.