James Hutton v. William J. Belt. Statement of Facts, Amendment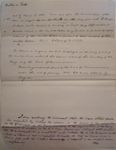 Act of March 3d 1819 — "from and after the termination of the war in which the United States are now engaged with G. Britain it shall not be lawful to employ on board any of the public or private vessels of the United States, any person or persons excepting citizens of the United States, or persons of color, natives of the United States. Sec. 1. 4 Laws of U.S. 512.
No slaves or negroes are to be employed in the Navy yards of the United States without the express orders of the Secretary of the Navy or of the board of commissioners.
Rules & regulations prepared by the board of commissioners under the act of february 1815 — but never acted on by Congress.
I am willing to consent that the case stated shall be amended by taking the above, in the place of the allegation in the Statement, of it's being contrary to the regulations of the Navy Department to employ in the U.S. Ships Slaves. I should still contend that the enlistment is a contract made between the U.S. & the person enrolled[?] which a slave is not competent to make, & that his doing so in a foreign port, with his master's knowledge & consent is an implied manumission.
FS Key