William Jordan v. Lemuel Sawyer. Notes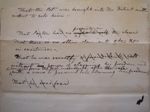 That the Petr was brought into the District with intent to sell him.
That Peyton had no property in the slave
That there is no other claimant of the Petr in existence.
That he was secretly & fraudulently sold without bei power of claiming his freedom and & removed from the Dist. immediately after the sale with a view to [illegible] his claiming his freedom.
That he was free