Samuel Bias v. John Rose. Statement of Facts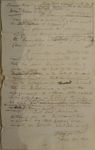 The following bill of sale Mortgage was executed & delivered (here insert the Bill of Sale Mortgage to W. Bowie)
And afterwards the following assignment hereof was made with the knowledge & consent without any objection on the part of Geo Richards (here insert it.)
It is further admitted that the said Petr was imported into the State by said Richards within 3 years before the date of the said Bill of Sale Mortgage & the date of the said assignment. That he continued in the possession of said Richards till his Insolvency, & after the assignment to Rose still continued in his possession as holding them for his wife for whose use said Rose intended them the daughter of said Rose; who advanced the money to said Bowie, & obtained said assignment for use & benefit of his said daughter.
That said Richards petitioned for the Insolvent law[?] as appears by these papers (here insert his petition schedule &ca)
F S Key for Petr.
W. Jones for deft.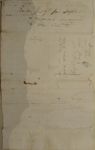 Enter Judgt for Deft. & appeal prayed to[?] Sup. Court.
611 apps
Saml Bias
vs
John Rose
fild 5 Jany 1819
Copy of sched. made for F. S Key.